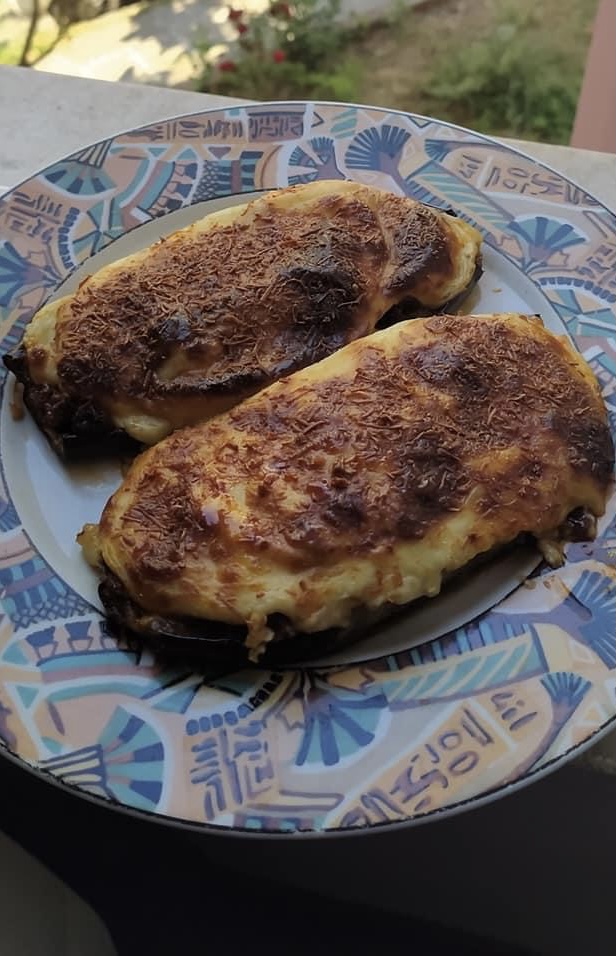 Good morning my friends, something special for this Sunday and one of my favorite food PAPOUTSAKIAAA ….. let's do it together
Ingredients
6 medium-sized eggplant flasks, cut vertically in half and well salted
600gr. minced meat
1 large onion, finely chopped
1-2 cloves garlic, finely chopped
Or a cup of chopped parsley
½ cup of red wine
1 cup peeled and chopped tomatoes
1 cinnamon stick
Or a cup of olive oil
Salt Pepper
For the béchamel
6 teaspoons butter soup
8 teaspoons flour soup
650ml lukewarm milk
2 egg yolks
salt, grated white pepper
grated nutmeg
Or a cup of grated kefalotyri
Preparation
Leave the aubergines in salted water for 20 minutes and then rinse them and wipe them with kitchen paper. Grease them with oil, place them in a pan and bake them on the oven grill, turning them on all sides until they soften a little. This way, you will avoid frying, which makes the food heavier.
Empty the crumbs from the aubergines leaving their surrounding wall to a thickness of 1cm. about. Finely chop the crumb you removed and keep it.
Put the minced meat, onion and garlic in a saucepan over medium heat and stir so that the minced meat does not clot. Add the oil and the eggplant crumb and sauté for 5-6 minutes, until it gets a little color. Stir in the wine and add the tomatoes, parsley, salt, pepper and cinnamon stick. Simmer the mixture for about 10 minutes, until the sauce sets.
Fill the aubergines with the mixture, leaving a 0.5 cm margin from the opening, and place them in the pan. Preheat the oven to 180oC.
Prepare the béchamel: Melt the butter in a medium saucepan and add the flour. Stir constantly with a whisk until it gets a little colored and does not grab. Add all the warm milk, stirring constantly so that the cream does not clot and lower the heat. Continue to stir until the cream thickens. Remove from the heat to cool slightly. Beat the yolks a little, add 3-4 tablespoons. béchamel soup, mix well until the mixture is homogeneous and then add it to the rest of the cream, stirring well so as not to cut the egg. Add salt, white pepper and a little nutmeg and mix.
Spread the béchamel on the "shoes" and sprinkle with the kefalotyri and a little more nutmeg. Bake in the oven for 30-40 minutes, until the "shoes" get a nice golden color.
Enjoy enjoy enjoy
Stay safe and healthy my friends and take care of your people
My best wishes from Greece