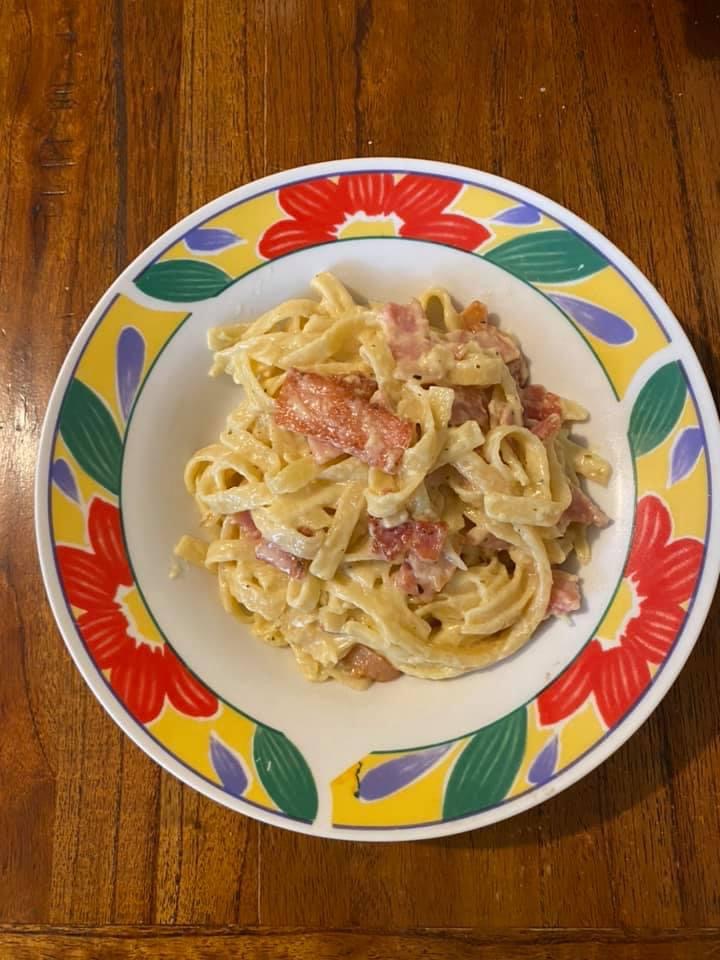 Goo morning my friends, great easy and almost an authentic carbonara for today , let's do this together
Ingredients
250gr. spaghetti
80gr. smoked pork cheek or pancetta or bacon
1 teaspoon olive oil soup
2 eggs + 1 yolk
5 teaspoons soup parmesan or pecorino (grated powder)
Salt Pepper
Preparation
In a saucepan with plenty of boiling salted water, add the pasta and cook for 2 minutes less than the time indicated on the package.
In a large pan, heat over medium to high heat 1 tbsp. tablespoon olive oil, add the pork cheek or pancetta and sauté for about 3-4 minutes, until the pork begins to remove its own fat and caramelize.
Put the eggs in a medium bowl and beat them with an egg beater. Add the parmesan and enough pepper and mix lightly. Carefully add two tablespoons of the boiling water to the pasta, stirring at the same time, so that it does not become an omelette.
When your pasta is ready, remove the pan with the pork from the heat and put the hot pasta inside, directly from the pot. Using tongs, mix the spaghetti gently in the pan. This step is very important because then you will add the eggs and if the temperature in the pan is high they will become omelette.
Pour the mixture with the eggs and the cheese in the pan and with the tongs mix vigorously, so that it starts to get a creamy texture. At this point you can add 1-2 teaspoons. soup water from pasta. Serve sprinkled with freshly ground pepper.
Hope you enjoy this
Stay safe and healthy my friends and take care of your people
My best wishes from Greece