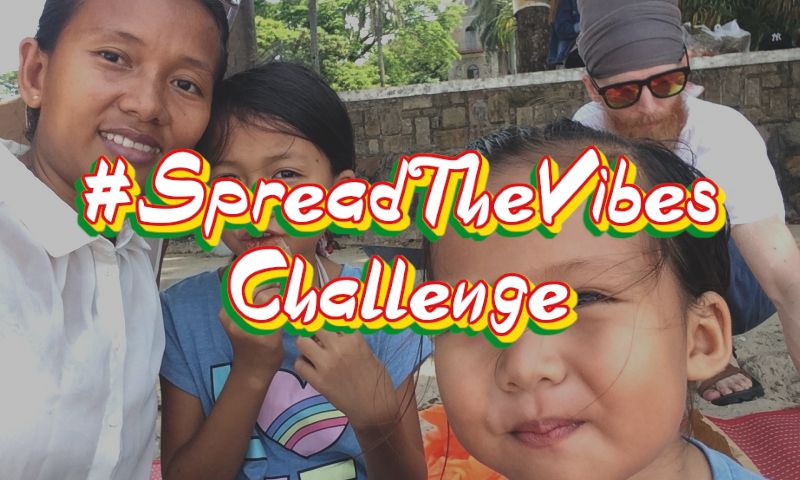 A very talented musician and fellow #NaturalMedicine curator @HolisticMom made me aware of this music-based challenge by inviting me via here Spread The Vibes Challenge ~ Second Sun post.

Divin' Into The Vibes
     When reading through @HolisticMom's post, I quickly noticed that this challenge is not only about sharing music, but it's about your reaction to the music shared with you by the previous participant.
     With this in mind, I am linking the music video that she chose for her post below. The band is City of the Sun, and the song featured is "Second Sun." I think these guys like suns.
My Reaction
     Right off the bat I should mention I am not a big fan of "jams," and although I'm not sure I would classify this tune as one, these young guys seemed pretty genuine and passionate, so I was quite engaged, curious to see where the song led and if they were going to sing.
     Instead this tune takes you into some pretty heavy, hard and fast-paced moments, almost melancholy, but also mixes in slow and dreamlike riffs, and the bouncing back and forth is quite a fun ride. The guys seem to have good energy together, and it is apparent in their playing, seemingly as if they are childhood friends.
Love Is Among by the "Wordsmith" Vaughn Benjamin
     For me, there is music, and there is what Vaughn Benjamin does, which is much more than music, involving etymology, anthropology, geology, astronomy, physics, philosophy, and much more, sometimes all in one song.
     "Love Is Among" is a song that means a lot to me and speaks a lot to my personal spiritual trod, and it speaks a lot to current world situation. Even though elder Vaughn departed Babylon before the pandemic and global downturn, it seems an overwhelming amount of his tunes poetically foreshadowed the social sickness now gripping humanity and nation states.
     Some lines that resonate with me in this tune are...
Give my dignity, I am a man
Some choose different filthy
With good opportunity.
Be not ungrateful to whatever degree.
Cultivate love and loyalty.
Cultivate careful temperate speech.
Words make body temperature change degree
Inside a' human being.
"We must become something our upbringing and education has not prepared us to be.".............H.I.M. Emperor Haile Selassie H.I.M.
     Being stranded abroad for two years because of humanity's addiction to the concept of nation-states, and also being forced to leave the place we were in due to legal complications and a lack of basic family rights, I do want my dignity back, something I feel that has been taken from me by those working for and propping up the Babylon s*itstem.
     I have seen others along the way easily sacrifice their pride and ethics for financial gain, but I don't hold it against them, and I dare not be ungrateful to JAH. I've always been troubled by the concept of land ownership, but so far it's never been a personal dilemma because I've never had enough means to buy land anyways.
     As a migrant, I focus on farming positive vibes reaped from the words that leave my mouth. It can't be said more beautifully than Vaughn's "cultivate careful temperate speech." We do know that emotions can be triggered by words, and emotions can increase and decrease our temperature, as well as wide range of other physical and mental changes, both positive and negative.
My Invites
     Although anyone is welcome to participate at anytime, I would like to invite my daughter Srey-Yuu (@KidSisters) and @ReggaeJAHM co-founder @dmilliz to take part in this challenge.

To give a little direction to how we "Spread to Vibes", a few guidelines below.
Post Content

your reaction to the music that was shared with you
your music selection and related story
your invites of other HIVE members
link to the post you react to

Post Tags
Post Community
any community you like
Not all of us receive notifications from our favorite blogging applications. Therefore you may consider the following:
Drop a link to your post to those you invite

through a comment to a recent post of those you invite
through a direct message (PeakD), Discord, Telegram or whatever channel
As we would like to see not only many post chains forming but also to get a little more connected, consider the following:
Drop a reaction in the comment section of the post that got you invited

include a link to your post
Rewards: Lame
Usually, a challenge is packaged with some monetary incentive. But, isn't that boring? And isn't monetizing positive vibes not lame? Passion, energy and community vibes: That's what counts!
So you know: Though we can't guarantee some curator team selecting your post for a boost, we also can't guarantee this will not happen 😉

🙏 THANKS FOR READING/WATCHING 🙏
If you enjoyed this post, please upvote and reblog.