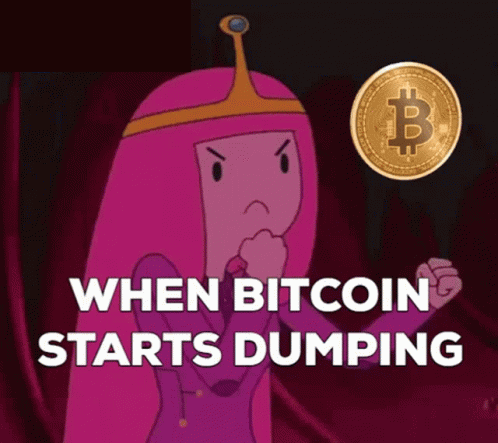 Src - Tenor Gif
»»————-————-——-—- ༻✦༺ -———-————-————-««
It makes us get so emotional when cryptos dumps especially bitcoin because all our Altcoins dumps double digits lower. The recent spooked market coincides with the almost regular weekend dump so now most of us are all in the red.
I should have waited a little longer before buying in with my reserved stable coins knowing not well enough that there are many factors had came into play with this recent dump. So I thought that it was just because of liquidated leverage trade "Longs" was the sole factor and because I am afraid that it will come back-up fast I just decided to buy immediately.
But there went a second wave of dump after I bought, it went up a bit a few percent and now it just dumped again. Now is just another waiting game for me to see some profits again. I know that it is just a cycle and that it will come back up again but for now I just have to share my experience upon this matter, that we have to wait a bit after a major dump before deciding to buy in.
But nothing is so sure about the markets, i could have FoMoed in after a bit of a run-up this morning and suffered an even major loss. So it is like a gamble but at least I am able to buy relatively low but unlike the prices now that it is lower then where I bought. I just have to wait again until I am in the profit again, that is how things work in these crypto markets.
Thanks for reading. :D
Deutsch (German) Translation:
Es macht uns so emotional, wenn Kryptos besonders Bitcoin ausgeben, weil alle unsere Altcoins zweistellig niedriger sind. Der jüngste gespenstische Markt fällt mit dem fast regulären Wochenend-Dump zusammen, sodass die meisten von uns jetzt rote Zahlen schreiben.
Ich hätte etwas länger warten sollen, bevor ich mich mit meinen reservierten stabilen Münzen einkaufte, ohne zu wissen, dass bei dieser jüngsten Müllkippe viele Faktoren ins Spiel gekommen waren. Daher dachte ich, dass dies nur auf den liquidierten Leverage-Handel zurückzuführen ist. "Longs" war der einzige Faktor, und da ich befürchte, dass er schnell wieder verfügbar sein wird, habe ich mich einfach für den sofortigen Kauf entschieden.
Aber es gab eine zweite Welle von Dump, nachdem ich gekauft hatte, es stieg ein bisschen um ein paar Prozent und jetzt ist es einfach wieder Dump. Jetzt ist nur ein weiteres Wartespiel für mich, um wieder einige Gewinne zu sehen. Ich weiß, dass es nur ein Zyklus ist und dass er wieder auftauchen wird, aber im Moment muss ich nur meine Erfahrungen in dieser Angelegenheit teilen, dass wir nach einer großen Müllkippe etwas warten müssen, bevor wir uns für ein Buy-In entscheiden.
Aber nichts ist so sicher über die Märkte, dass ich heute Morgen nach einem Anlauf in FoMo hätte einsteigen können und einen noch größeren Verlust erlitten habe. Es ist also wie ein Glücksspiel, aber zumindest kann ich relativ günstig kaufen, aber im Gegensatz zu den Preisen, die jetzt niedriger sind als dort, wo ich gekauft habe. Ich muss nur noch einmal warten, bis ich wieder im Gewinn bin, so funktionieren die Dinge in diesen Kryptomärkten.
Danke fürs Lesen.
»»————-————-——-—- ༻✦༺ -———-————-————-««
─=≡Σ((( つ•̀ω•́)つLET'SGO!
▂▅▇█▓▒░ ⎛⎝(•̀ ‿•)⎠⎞░▒▓█▇▅▂