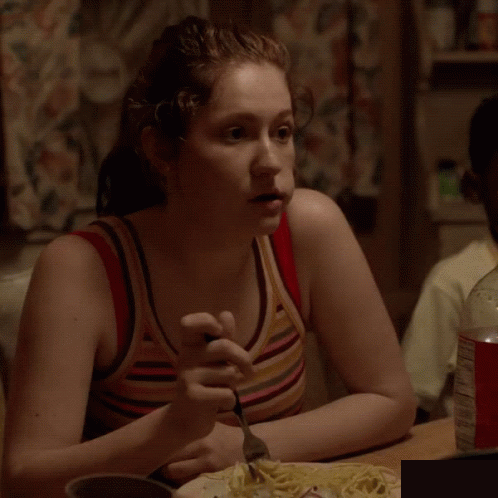 Src - Tenor Gif
»»————-————-——-—- ༻✦༺ -———-————-————-««
I haven't eaten anything since this morning and it is already 2:00 PM ay the time of this writing. Well it is because of a drug-induced nausea that I was actually enduring over the past four years or so ever since I had started my Cinacalcet therapy.
But at first I can eat better and eating regularly despite my appetiteloss all because that I have a better hemoglobin levels back then. But now since my hemoglobin level is low it compounded my appetiteloss issue. So it has been terrible lately especially after my nurses had mellowed down or lessened the quality of my dialysis session which is why I really still can't eat after my dialysis.
I might buy me some milk which is formulated for dialysis patients, it is called "NEPRO". I just stopped buying it before because it is expensive but maybe I can't sacrifice my health by not having it at least once a day.
Thanks for reading. :D
Deutsch (German) Translation:
Ich habe seit heute Morgen nichts mehr gegessen und es ist bereits 14:00 Uhr an der Zeit dieses Schreibens. Nun, es ist wegen einer medikamenteninduzierten Übelkeit, die ich in den letzten vier Jahren, seit ich meine Cinacalcet-Therapie begonnen hatte, tatsächlich ertragen habe.
Aber zuerst kann ich trotz meines Appetitverlustes besser essen und regelmäßig essen, weil ich damals einen besseren Hämoglobinspiegel habe. Aber jetzt, da mein Hämoglobinspiegel niedrig ist, verschlimmerte sich mein Appetitverlust. So war es in letzter Zeit schrecklich, besonders nachdem meine Krankenschwestern die Qualität meiner Dialysesitzung gemildert oder gemindert hatten, weshalb ich nach meiner Dialyse wirklich immer noch nicht essen kann.
Ich könnte mir etwas Milch kaufen, die für Dialysepatienten formuliert ist und "NEPRO" heißt. Ich habe gerade aufgehört, es zu kaufen, weil es teuer ist, aber vielleicht kann ich meine Gesundheit nicht opfern, indem ich es nicht mindestens einmal am Tag habe.
Danke fürs Lesen.
»»————-————-——-—- ༻✦༺ -———-————-————-««
─=≡Σ((( つ•̀ω•́)つLET'SGO!
▂▅▇█▓▒░ ⎛⎝(•̀ ‿•)⎠⎞░▒▓█▇▅▂